Watermark Coffee win a Gold, Silver and Bronze place in this year's Blas na hEireann Irish Food Awards.
Blas na hEireann is often described as the Oscars for the Irish Food Industry and included over 3000 submissions from a wide range of artisanal and specialist food producers.
Of the two categories for coffee (multi-origin and single origin categories), our Green Ocean Carrickwee won the Gold with a 1st place win for the multi origin coffee. The Green Ocean Dorinish, which is a single origin from the Mutwiri coffee plantation in Kenya, won the silver medal with a second place win, and our Woodland Tibradden, which is also a single origin from Kenya came in with a 3rd place win.
Speaking about the result, David Lawlor of Watermark Coffee said "We are really delighted that these wonderful coffees have performed so well.  In a very competitive market, with a lot of contenders in the competition, winning 3 out of 6 possible coffee awards is a fantastic result."
The Green Ocean Carrickwee blend is a medium roast of speciality grade arabica beans sourced from Central America, Brazil and Kenya.  We designed this coffee recipe to reflect the increasing sophistication of Irish consumers but also to ensure it has maximum appeal.  It is not a huge surprise that it received the coveted first place win.
The Dorinish single origin from the coffee estate of Charles Mutwiri is a medium light roast but the earthiness of the Kenyan coffee gives more body with a nuanced sophisticated citrus and herbal flavour.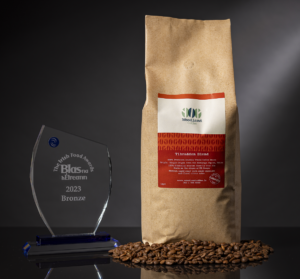 The Woodland Tibradden single origin coffee from Mt Kenya is roasted to medium light.  This speciality grade coffee has been a huge success since it was launched in 2022.
Producing fantastic coffee with a meaningful environmental purpose is the essence of what Green Ocean Coffee and Woodland Coffee stand for.
If you would like to find out more about these excellent coffees, or to arrange a coffee tasting for your business or office, then please let us know by calling 01 4666 000or dropping us an email on info@watermark.ie